A Whole 60 minutes ?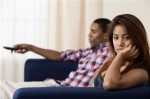 How many of us can spend time with our spouses for 60 minutes without our phones, tablet, TV or the radio playing in the background? Most times, the fact that we exist in a "technology-glut" era makes it so difficult to imagine life without them. As a result, many of us suffer from "partial attention disorder". We spend time with our spouses, but we are never fully present; we look, but we never see; we hear, but we never listen. Little wonder you often hear couples say "I told you", "you never mentioned it, this is the first time you are talking about it".
Back to my question, can you spend 60 minutes, discussing with your spouse, without being bored, distracted or disconnected? Will you run out of what to talk about?
Study yourself to see areas of growth. You may want to broaden your horizon by equipping yourself. Knowing just about your work or religious matters is not a good example of maximised living. According to Mark Twain, " he who does not read is not better than he who cannot read".
More so, study your spouse to discover their interest in order to leverage on it to build intimacy and marital romance. "Marital romance must be pursued, you don't wait for it"| Victor Akunna.
Some people find silence threatening and uncomfortable. Can you spend 60 minutes with your spouse without any gadget or electronic device helping you fill the silence?
Chidi & Victor Akunna
Relationship Catalysts
Our Weekly Thoughts
Pin: 73E8821E
@FamilyAffairs05
For more of Our Weekly Thoughts, visit our blog
www.foundationforfamilyaffairs.org