My Spouse, My Friend – By Victor Akunna
True Friendship
Sometimes, I hear people say things like there are no true friends these days, people are only around you because of their selfish motives. While that may be true, there are still true friends.
A friend is someone who you can trust to be there for you; someone who will speak up for you before hearing your own side of the story; a person who would tell the truth in love, not to put you down; that person you can be yourself with, without having to 'wear' a mask to impress him/her. If you have this friend in your dad, mum, colleague, sibling, mentor, etc., you should feel privileged, more so, if this person is your SPOUSE!
One of my life's joy is that my favourite person to hang out with is my wife. When your best friend and your spouse are one and the same person, I think you have what money can't buy.
The Process
We didn't get here overnight though, it took a lot of talking, aligning of our interests, finding common grounds, supporting each other, etc.. Most especially, allowing what we have gone through together as a couple to bring us closer, rather than disconnect us.
Blog Post: Fear of Intimacy
One key learning point for us is that your problem is not an external factor or people who try  to get in your way, but your attitude towards them is what matters. Your willingness to work together with God will turn every brick thrown in your path into an asset for building a better marital friendship.
When the going gets tough, fortify from within because what drowns a boat is not the water around it, but water that was allowed into the boat.
Blog Post: Family Map
Be deliberate about your friendship. We watch movies, travel, speak, write, publish, and shop together. Find what works for your marriage because every marriage is unique.
Share below your questions or comments on how you build friendship in your marriage :-). I will do my best to address them.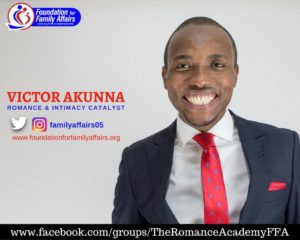 Victor Akunna is one of the leading voices on marital romance; a writer of many published articles and books. He runs many social media platforms where he coaches and counsels singles and couples on building successful relationships and marital romance. Victor Akunna is also a trained talent management expert and Coach with years of experience in relationship coaching, training facilitation, and talent management.
He is fondly called the Romance and Intimacy Catalyst because of his passion for helping individuals, couples and companies build sustainable and valuable relationships, and testimonials abound.