"Our Romance Story" Featuring Oluwafemi and Olubusola Adun
FFA: Please introduce yourselves
Our names are Busola and Femi Adun. We are privileged by God to be Founders of Eagle World Outreach and Grace House International Ministry. (Headquarters in London, UK)
FFA: I must say, it's a great work you are doing. More Grace! How long have you been married?
We've been married for 10years, 3month and 3days.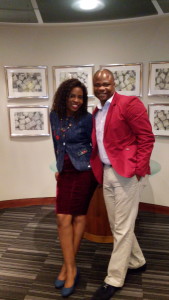 FFA: Awesome! At what point did you decide to get married to him?
Busola: I came to the decision to marry him after we realised that we had genuine feelings of love for one another, enjoyed each other's company so much and shared the same passion for the things of God. However, we had a couple of issues relating to cultural, educational and financial stability on the part of my husband which were potential barriers to the relationship progressing. We, therefore, had a heart-to-heart discussion, analysed these barriers and discussed plans we would put in place to overcome them. We needed to address these issues first between us so that we could be in agreement before speaking of our intention of courtship to our parents.
FFA: Hmmm… You had to weed out every obstacle, lol! Over to you, PF.
Femi: I decided to get married to Busola for several reasons. Firstly, when I knew this was the will of God for my life. Secondly, when I knew I did not need to be someone else, other than myself, to get her love and acceptance. Finally, I decided to get married to her because she loves the Lord and believes in me with all her heart, even though at the time, nothing in the physical made it easy for her.
FFA: Hmm deep words … "when I knew I did not need to be someone else, other than myself, to get her love and acceptance", "believes in me with all her heart, even though at the time, nothing in the physical made it easy for her." First Lady, What was the attraction then?
Busola: I was attracted to him because of his passion and genuine love for God and Kingdom service and his level of progression in the things of God in such a short time of becoming a believer. I was also attracted to his commitment to volunteering at church and to his testimonies of how he would arrange all the chairs in his church auditorium all by himself because of his passion for his new found love with Christ.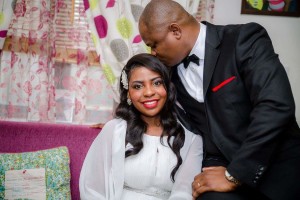 FFA: Now, this is what we call commitment with proof! How did he propose?
My husband proposed at the beach during a Singles' retreat fun day outing. 'smiles'
FFA: We see where he got his love for retreats from :-). How do you fill your romance-tank; improve intimacy; and take romance to the next level?
Busola: I guess because of my temperament and personality, when it comes to romance my husband does a better job of taking our romance to the next level. He takes the lead in that area, touch and affirmation are his love languages. I try to come up with my own way of spicing things up by practising some spice-up tips I read in relationship materials, but he comes up with more ideas that sometimes, I wonder where they came from?. We also try to make special occasions special for ourselves and my husband does a fantastic job of cooking continental dishes to make it truly special! Also, every now and then we get away to a hotel to spend a night and just spend time together or we may go out on a date, but we have not had too much of that lately, mainly because of some responsibilities.
FFA: Talk about a romantic man!!! Continental dishes? Amazing!!!
Femi: Over the years, we have learnt to fill our romance tank by learning to speak each other's love language. For instance, Busola loves a clean environment and I have learnt to help her achieve that to the best of my ability and by doing so, it helps to create an atmosphere in our marriage which increases affection and in turn, improves our romance life. In our 10 years of being graciously and happily married, we have invested immensely in our sexual relationship as a critical way of building stronger intimacy. The reason for this is because we remind ourselves that sex is the only exclusive form of affair that we can never share with any other person. Therefore, this must be the highest way of improving intimacy, so we ensure that we are as creative as we can in our sexual relationship. The truth is that it has been an absolute pleasure and delight in many ways to explore and develop greater intimacy. Spending time and exchanging gifts, along with compliments, have been great sources of our continuous romance in our marriage. We both love gifts.
FFA: Wow! This is what we call "intimately intimate". Do you have family rituals/routines that bind you together?
One of our family routines is our Friday Movie Night with the family, a mini experience of being in the cinemas. Also, we make sure that we talk about everything.
FFA: How romantic! How have you been able to navigate through the challenges of each phase of your marriage?
Femi & Busola: First, Christ being the foundation of our home, is one major thing that keeps us in check, not that we get it right every time, but we strive to make sure that Jesus is glorified in our marriage.
Also, communication is very key for us as we always sit to talk about the situation and go to the Lord in prayer for wisdom and guidance. We don't go about telling everyone our business, even family members. We try to trash out issues once each party has expressed their concern and because we want the progress of our marriage, we ensure that we stand by each other's commitment as we remind ourselves that we are not enemies, but best of friends!
FFA: Indeed, we are not enemies, but best of FRIENDS! What advice do you have for singles/the engaged?
The engaged –
Femi & Busola: Our advice to the engaged is this – It is great that you are engaged to a godly guy or lady which is no1 priority, but know that Marriage is an institution that the devil is committed to destroying, so you have to be on the watch because trust me, he gets into issues such that, if not properly managed, can destroy any fun-loving marriage! Also, know that marriage is a huge compromise and a higher level of learning that you never graduate from. Sometimes, you feel that you are about to pass and then you realise that you have to redo the module again.? It's important that you are open to learn, adapt and embrace change to make you a better person and to add value to the other person.
Another huge lesson is that marriage is about service to one another and sacrifices which are not always easy, but ultimately, if both parties are willing and committed to their marriage, it will yield greater rewards for them. Prayer, as an individual and as a couple, is also very key. In addition to this, being completely yielded to the leading of the Holy Spirit is crucial as he is the best teacher to speak to our hearts the right decisions to take per time. This is not always easy in times of conflict, but definitely the best teacher to have!
Enjoy courtship, be good friends (remind each other that this is a learning period to know yourselves a bit more, this is where you might experience your first conflict because of individual preferences, differences and backgrounds. Invest in books and resources that will build you up as individuals and prepare you for marriage).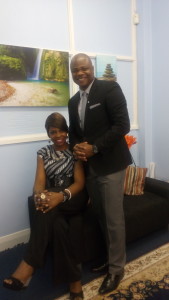 Singles –
Femi & Busola: Our advice is this – There is no rush for marriage, never be swayed by the flash in the pan and show off of marriage we see today! Know yourself more, discover your identity in Christ, so you can become an independent individual that is confident in who you are; an individual that can also add value to others.
Enjoy your singlehood, discovering the potentials God has invested in you. It's a time to become a better kingdom-guy or girl. Begin to apply the fruits of the Holy Spirit in your everyday dealings so that it prepares you ahead for marriage because sometimes, as a single person, you may think that you are prepared, but realise that when you come into marriage, there is so much you don't know. Singlehood provides the platform to put into practice good habits, skills and godly principles that become beneficial in marriage. It's also important for singles to identify couples with good testimony (not because they don't have issues, but are mature enough to deal with issues with God's wisdom that makes their marriage enviable) that can mentor them, as well as glean from per time.
FFA: Wow! Some deep words there. Any encouraging words for couples going through a challenging time?
Femi & Busola: We would recommend the movie, "War Room"? seriously!
Again, every couple should be aware that the devil is after marriage and as the bible says, we should be vigilant and pray as the devil goes about looking for whom to devour, so the only people who can keep him at bay are couples that take it all to the Lord in prayer, that is, on every single issue they are confronted with. Also, they must never get to that point where they no longer care for one another, can't apologise or say sorry. We believe every challenging situation can be turned around if both parties are willing to see the change and commit to it; not always easy, but this is possible! The moment they can shift attention from their own desires and wants and see how they can give to the relationship without necessarily expecting anything back, then a comeback is inevitable!
Communication is also important, talk about issues, listen to each other's heart cry, seek counsel if the situation is crucial and keep praying to the Lord for grace and strength to stick to your part of getting the relationship back on track! Draw memories from your great times and make up your mind to make it work!
We are still on this learning journey ourselves, but thankful for the help of the Holy Spirit in our lives so far!
FFA – Awesome, what an experience speaking with you both! Thank you so much for sharing your "Romance Story".
To follow them and find out more about what they do, reach them on @femiadun, @bzzion, http://eworldoutreach.org/
To get updates on "Our Romance Story" as soon as it drops, please subscribe to this blog