Getting Married? By Chidi and Victor Akunna
Getting Married?
"It was a wonderful reunion after almost 10 years, three of us agreed to visit the cinema to see "The Wedding Party". We planned to see Sandra later that evening as it was her baby shower after trying for a baby for 5 years. Our evening was amazing, we laughed, ate, screamed, talked about our university crush, who works where, who is married, who has had a baby, etc. It was a typical girls' night out.
The movie was almost coming to an end when my phone rang, I knew it was James, my fiance, because he saved his number on my phone with a unique caller tune. I was hesitant because I wasn't sure of what would come from the other end. As my phone kept ringing, I had to take the call. On doing so, he started screaming, "where are you?!", raining insults and accusations. I had to pretend I couldn't hear him, just to avoid the awkward situation his call put me in. When I dropped the call, there was a long deafening silence. In fact, the rest of the evening was terrible, my friends tried so hard to avoid my eyes."
Blog Post:  Before you say "I Do"
Pressure
Do not allow the need to transit from 'Miss' to 'Mrs' lead you to an 'early grave'. The cultural pressure to get married because of the ticking "biological clock" has led some promising single people, men and women alike, into regrets. Are you ignoring the red flags? Do you think you can change an adult? Why settle for less than you deserve, being treated with disdain?
You must remember that after the wedding, everyone goes home leaving you with the beauty or the beast you married. Marriage is real life, not a rehearsal; choose right.
Photo credit: https://i.ytimg.com
Chidi & Victor Akunna
Romance & Intimacy Catalysts
www.foundationforfamilyaffairs.org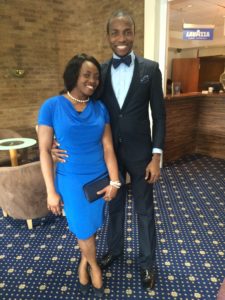 Chidi & Victor Akunna are leading voices on marital romance and family life. We are passionate about helping individuals, couples and organisations build sustainable and valuable relationships, and testimonials abound. They are authors of many articles and books such as Spicy Romance, Dynamic of Marriage, Bedroom Makeover Plus and Health and Wealth Acceleration,
They partner in the administration of "Romance Masterclass" – a coaching programme and "Lite the FIRE" workshop – a couples' romance makeover intervention. Together, they write "Connected Hearts" – a leading daily devotional on spicing up marital romance and strengthening families. They also oversee the operations of Foundation for Family Affairs – a charity focused on strengthening families around the globe.